Introduction about Teak Furniture:
When it comes to patio furniture and other décor that can stand up to the elements, nothing beats teak. Whether you want to liven up your garden or create an inviting space in your backyard, teak wood is the preferred material of choice. Low maintenance, durable, and elegant, teak wood has been used in the shipbuilding industry for ages, and that speaks volumes about its strength and quality.


Why Use Teak?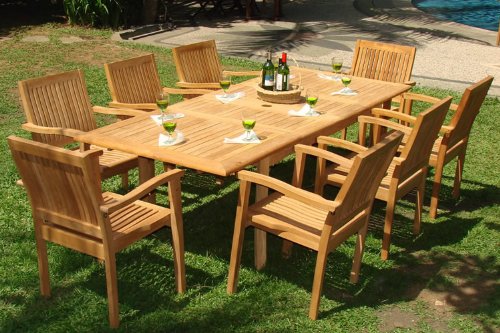 Teak Furniture
Originally brought in from Indonesia, teak wood is now commercially planted and harvested. Suppliers and manufacturers ensure teak wood is harvested in an eco-friendly way, and support sustainable growth of teak as well. As an extremely dense material, teak is perfect for being carved into all sorts of different shapes, and the added durability goes a long way in maintaining a strong structure over an extended period of time. Furthermore, teak is also resistant to sunlight and water, with little – if any – discoloration resulting from prolonged exposure to the elements.
Outdoor Teak Furniture:
An increasing trend seen in current furniture design is the adaptation of natural materials for settings. When it comes to patio furniture and settings for your garden or backyard, nothing blends into the surrounding quite leak teak furniture. With a smooth, reflective surface and a warm brown color, teak wood adds an inviting look to your outdoor furniture. Outdoor teak furniture can be easily cleaned by simply wiping off dirt with a wet cloth. It also won't be affected by temperature changes, and virtually needs no maintenance. Over time, teak may take on a shiny, silver appearance that is completely natural and adds a bit of elegance to your outdoor furniture. It is no wonder then that teak furniture is known as the best option for outdoor furniture; including seating arrangements, poolside furniture, and benches.
Teak Patio Furniture Images
Indoor Teak Furniture:
Home décor in the past couple of years has been all about the rustic look brought on by authentic wood furniture. Thanks to its excellent durability, teak wood is an amazing choice for indoor furniture. Large items such as dining tables, couches, and shelves made with teak wood will add a warm and inviting golden brown finish to your home. As the wood ages, it will develop a natural weathered look which will further add character to your interior design. It also goes without saying that the prized indoor teak furniture will maintain its value over time, and prove to be a memorable heirloom for future generations.
Teak Oil:
Teak wood generally contains sufficient oil itself to maintain shine and stay protected from rotting or other damage brought on by natural elements. However, in some cases, penetrating teak oil may be
Teak Oil
used in order to give the furniture a new, fresh look. It is important to make one distinction here: teak oil refers to the oil applied on teak furniture – it is not oil obtained from teak itself. Like other furniture care products, teak oil can be applied with a brush or rag, and wiped off after a few minutes to allow it to soak into the wood.
by Patio Furniture Images
Search Patio Furniture
&
Patio Furniture Images
are offering fine
Outdoor Patio Furniture
for every Outdoor Patio Situation.
Patio Furniture Clearances
Sales and amazing discounts are offered together with Free Shipping on most of our
Outdoor & Indoor Furniture
.
Outdoor Patio Furniture Sales
is offering quality furniture for every place in and around your home; Garden, Bedroom, Living & Dining room and many other Home Furnishings & Accessories. Visit our online Patio Furniture Store at
Patio Furniture Images
~
Search Patio Furniture